Exceptional Car Wash and Detailing Services
| | | |
| --- | --- | --- |
| | | |
| | | |
| | | |
Trust our 90 years of experience to deliver you fast and affordable services
without compromising on quality. Visit Soft Touch Car Wash Systems of Centerville, OH to give your old vehicle that new-car shine with our professional car washing and detailing services.


Your satisfaction is what drives us
Our professional car washing and detailing
services are what your car needs. Let us make
your car's beautiful finish last. Give your car the
care it deserves.

Your One-Stop Car Detailing Workshop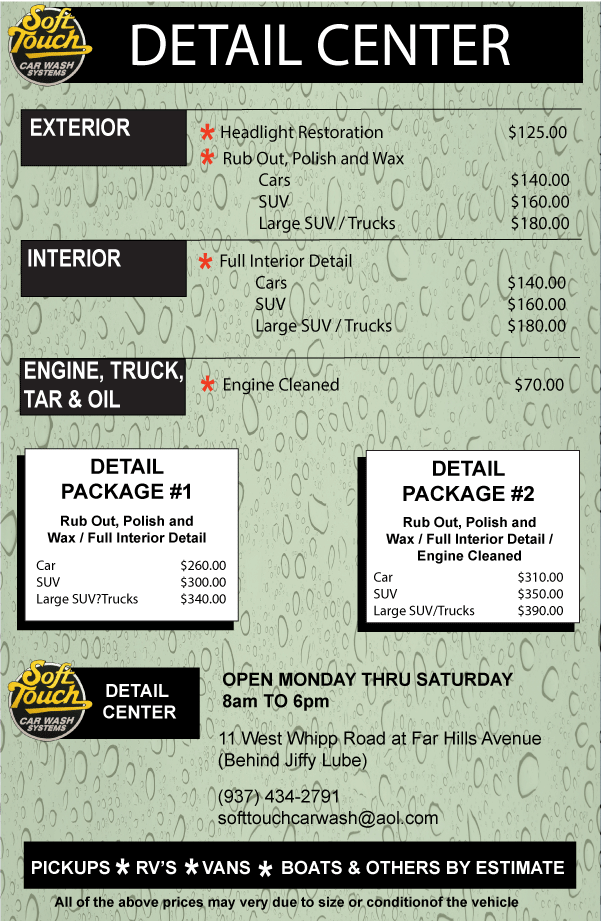 Are you in need of car detailing services that will make your car shine like new? We use only premium products and supplies when detailing your vehicle, to deliver an optimal finish. Schedule a visit today!
Comprehensive detailing for your car
Thorough detailing of your car can preserve both its look and value. Check out our assorted car detailing services for all your needs.